Inspire - Digital Technologies in the Food System
The Inspire Digital Technologies course will showcase the challenges in the Food System course and the future landscapes of technology development in agriculture and the food industry.
Course information
Level

Beginner
Applications

Currently closed for applications!
About

:

Are you able develop innovative digital technologies to transform our food system?
Digital technologies, data science and artificial intelligence is an area of increasing interest. The unique selling point for the proposed INSPIRE programme relates to the position of the consortium on the UK, EU and global stage on research, knowledge and expertise in food security, food systems and digital technologies. In particular, the lead partner, QUB's Institute of Electronics, Communications and Information Technologies has world leading expertise and reputation in secure connected intelligence, coupled with the internationally renowned expertise in food integrity through the Institute of Global Food Security. This is expected to be a key selling point of the programme, particularly as we aim to deliver a 3-day face-to-face make-a-thon event in QUB. The EIT Food label and partner contributions will strengthen the course offering even further. This will be complemented with expert speakers and rising food stars from within the EIT Food network.
This is not a niche market as digital technologies are now in the food chain and related value streams, but demand is expected to increase further as it is clear the current agri-food workforce presents a low skill level in comparison to the digital solutions available. The consortium also has state-of-the art facilities within their own organisations, coupled with complementary stakeholder networks who can provide value-added activities, industry speakers, facilities and access to our target cohort to ensure in-depth and professional content and delivery of the course.
The proposed Inspire course is also aligned with The Deep Tech Initiative, as part of the European's Innovation Agenda and will help to support the ambition to train one million people in deep tech between 2023 and 2025.
What will you achieve?

:
By the end of this course, students should be able to:
Understand the challenges in the food system
Explore and critically assess the different digital technologies which can transform the food sector
Translate innovations into feasible business solutions for the agri-food sector.
Think beyond boundaries, and systematically explore and generate new ideas, responding to current and future challenges within the food system.
The course is open to anyone with a Bachelor's, MSc or PhD degree or substantial experience within the food system or tech sector.
Our Inspire Course is designed for individuals who are passionate about transforming our food system into a fair, healthy, and environmentally friendly food system for all. In particular, we are looking for aspiring entrepreneurs with a keen interest in the digital technologies which could transform the sector, and who would love to come up with innovative potential business ideas to revolutionise the industry.
Ideally, we are seeking Master's Students, PhD students, Postdocs, young professionals, or aspiring entrepreneurs interested in food systems and digital technologies.
We are interested in individuals from multidisciplinary backgrounds to work in teams to come up with innovative ideas e.g., Agriculture, Marine Biology, Aquaculture, Food Sciences, Engineering, Business / Marketing, Informatics and Computational Science, among others.
Career Opportunities

:

Training in agriculture and innovation can open new career opportunities
To:
Farmers and practitioners aiming to understand what the transition to sustainable farming entails and connection to a pan-European network
MSc, PhD, and early career researchers: The Inspire programme will provide the opportunity for the creation of a pan-European network of researchers, industry, and experts across the agri-food community. It will increase their skills in digital technologies and create the conditions for the creation of novel research methods or areas of research currently not fully explored.
Young Professionals and industry participants: Will get a greater insight and understanding of how secure, connected intelligence and digital technologies can be incorporated into their business / agri-food chain; learning from industry experts and startups; and connections to pan-European network in agri-food
Aspiring entrepreneurs, startups and spin-offs: Will get entrepreneurship skills training, business coaching from renowned experts in entrepreneurship, innovation and food systems and a greater insight into the food system and problem spaces
Commercial organisations interested in professional development opportunities for their employees; and building links with a pool of talented agri-food and tech researchers, innovators and professionals and aiming to shape the new generation of talent in the food system.
What you'll learn

:

You will learn the following competencies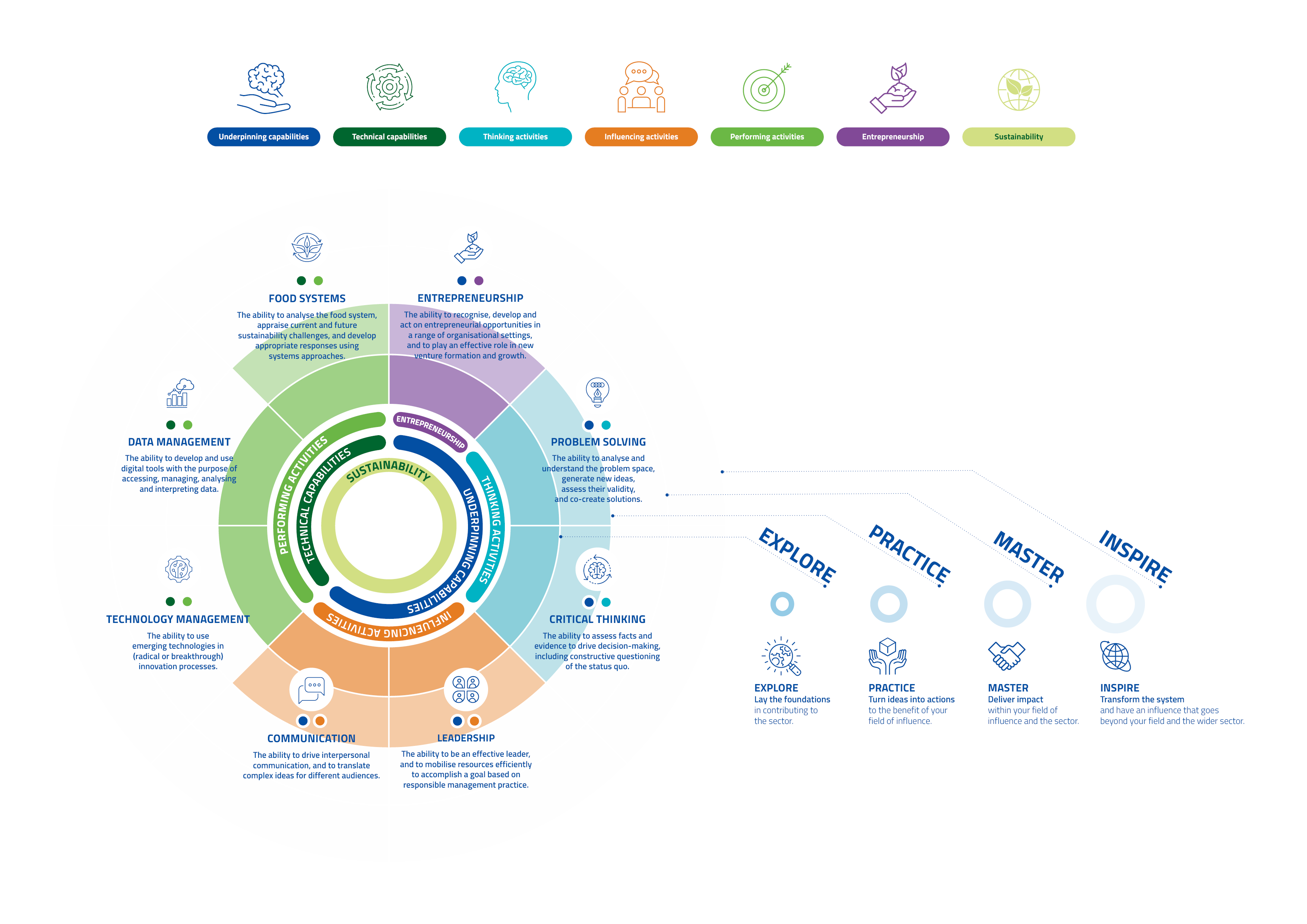 Food systems
Analyse the food system using a range of systems approaches to appraise current and future sustainability challenges.
Implement innovative responses to address sustainability challenges in the food system.
Entrepeneurship
Create opportunities for value creation
Mobilise resources to create sustainable value for others
Design and implement effective actions to deliver impact
Problem solving
Appraise the problem space to identify current and future needs.
Mobilise effective methodologies to generate new ideas.
Appraise the validity of new ideas and co-create sustainable solutions.
Critical thinking
Collect, analyse, interpret and report information to develop sustainable solutions to current and future challenges.
Appraise unintended consequences of any course of action to devise ethical goals.
Leadership
Appraise different strategies to deliver a food system innovation
Demonstrate leadership towards the implementation of a food system innovation
Communication
Devise effective communications methods that support organisational strategies
Engage in two-way communication with stakeholders about their concerns
Data management
Implement effective data management protocols.
Recognise the importance of data security measures.
Identify key unintended consequences of the use of information technologies.
Technology management
Competently use appropriate technologies to contribute to food system innovations.
Appraise the relevance of emerging technologies in a particular work or study context.
Identify key unintended consequences of the use of emerging technologies.
Recognise the importance of IPR management.
Structure and Modules

:

The course will include three modules
The agri-food sector is facing increasing pressure as it tries to feed and nourish a growing population by 2050 in a safe, responsible and sustainable way. The sector faces challenges around achieving targets on net zero greenhouse gas emissions; improving environmental performance; tackling food loss and food waste; increasing resiliency; increasing transparency, trust and fairness from farm to fork; and achieving healthier lives through food. It is evident that we need to reconsider how we produce, distribute, value and consume food.
Innovations in technology and data science are forecasted to play an important role in transforming our food system and achieving global food security for future generations, based on the principles of integrity. In the agri-food industry, insight driven data will be crucial to address the major challenges facing the sector: connecting insights into the health of soil, the environment, livestock, humans, infectious and non-communicable diseases and populations. Digital technologies will allow the secure collection of data and tracking of food supply chains (transparency); monitoring and predicting changes to reduce and prevent risk (resiliency); precision agriculture and sustainable farming practices; and connecting all stakeholders, from sellers to buyers, driving more engaged and informed consumers and ensuring fairness across the supply chain.
The Inspire Digital Technologies course will showcase the challenges in the Food System course and the future landscapes of technology development in agriculture and the food industry. It will focus on digital technologies and provide training on applying cyber security, wireless connectivity, data analytics, artificial intelligence and machine learning approaches to address local, national and global challenges within the agri-food industry.
Over the course of 3 weeks, the participants will navigate the complex landscape of data analytics and AI and unlock digital innovation. The participants will also receive entrepreneurship and innovation training to develop a solution to challenges faced by the industry.
The course will include three modules with the following learning objectives:
Module 1 – The Food System: Outline the challenges in the food system: from feeding a growing population, the competition for resources, climate change and the complexity of the global food chain to the triple burden of malnutrition
Module 2 – Digital technologies in the food system: Provide training on applying data science, artificial intelligence and digital technologies across the agri-food chain to address local, national and global challenges within the sector and current limitations.
Module 3: Digital Technologies Make-a-thon: Increase entrepreneurial, innovation and deep tech skills
Assessment
The inspire participants will be assessed against the learning outcomes through:
Formative Assessment:

Problem-Solution Fit: Live presentation and feedback
Solution- Market Fit: Live presentation and feedback
Food Systems & Aquaculture Sector: End of course quiz on Canvas

Summative Assessment:

Final Pitch – Teams present their innovative idea at a final pitch event. The teams will be marked on both their pitch and the overall concept
Practical

:

What you need to know
Participation Fees - Early Bird / General rate
Full course (online & in-person event in Belfast): 100€ / 350€
Online only course: 65€ / 150€
Application deadlines
16th October 2023: at 23:59:59 CET
The Early bird fee deadline is on the 1st of October.
For all courses, places will be free for those on parental leave and on a low income. Discounts available for charities/NGOs and bulk discounts for companies or teams. To enquire please contact Mariana Fazenda by email (mariana.fazenda@eitfood.eu).
VAT is excluded from all the prices.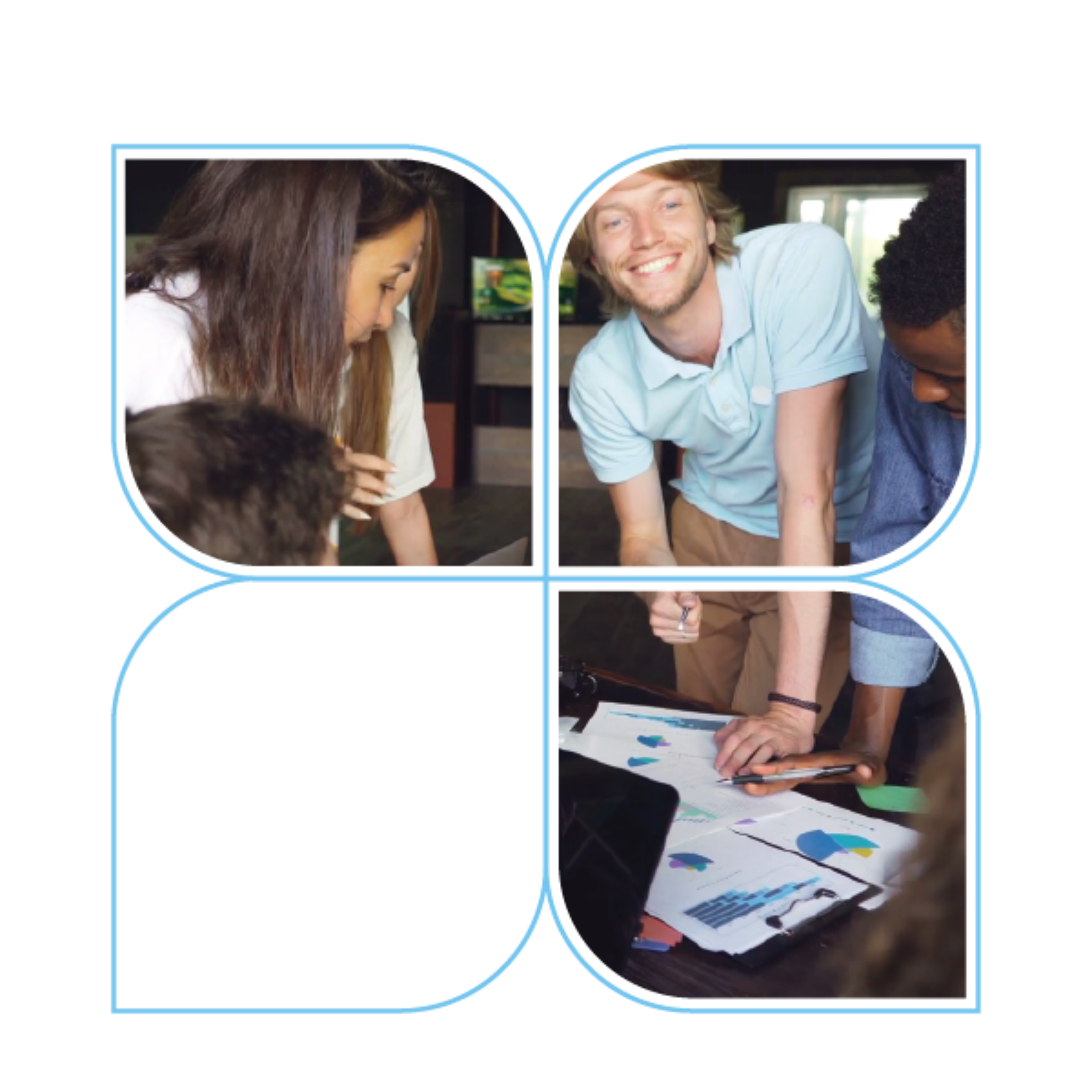 The objective of EIT Food Innovator Fellowship is to empower talents to co-create, address, and gain experiences on excellent ideas capable of bringing their careers a step further, and foster innovators ready to respond to global food…
Competition for fresh ideas in Food Systems Innovation.PRIZES UP TO 3000€ IN CASH!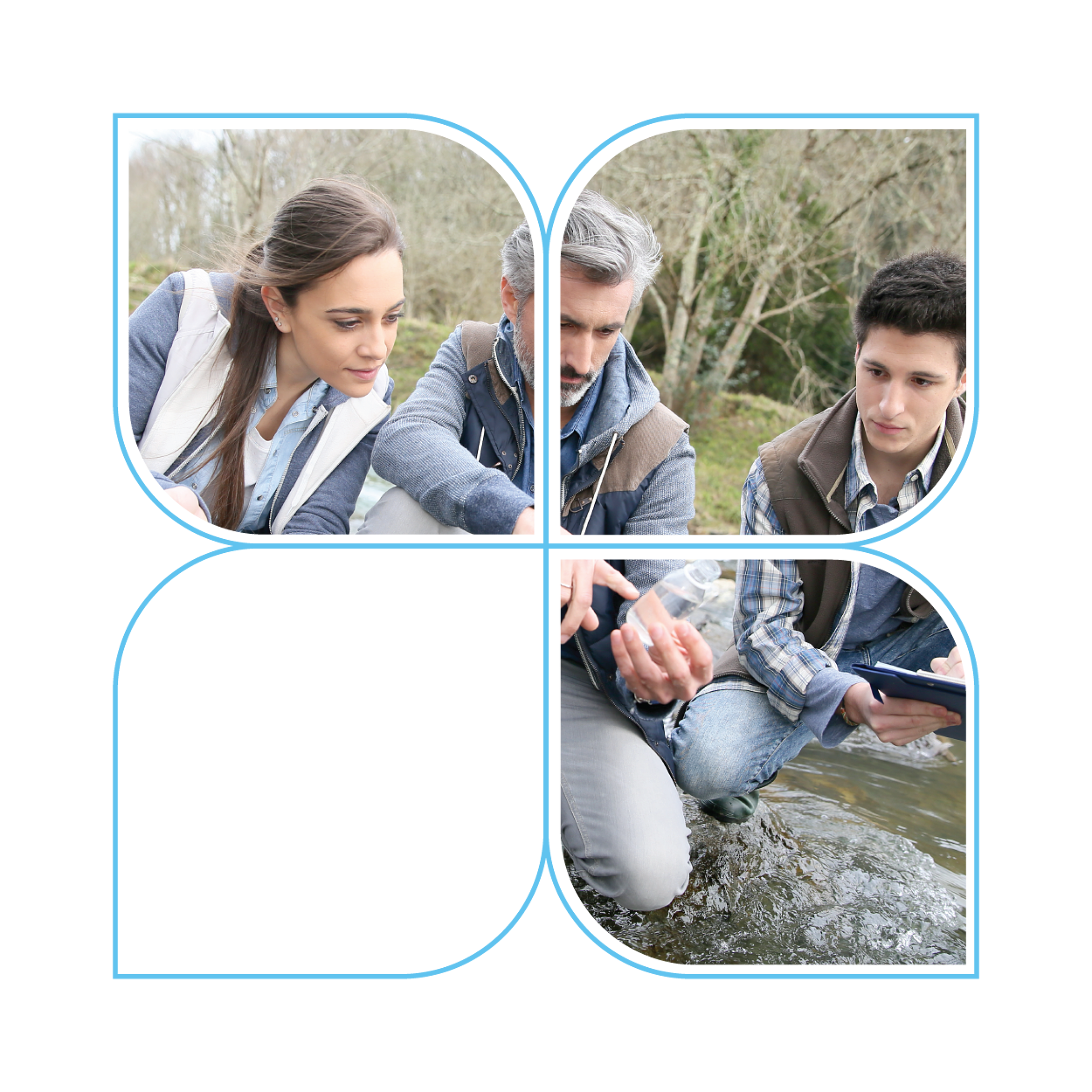 A comprehensive four-month exploration into the symbiotic relationship between food production and water resources.